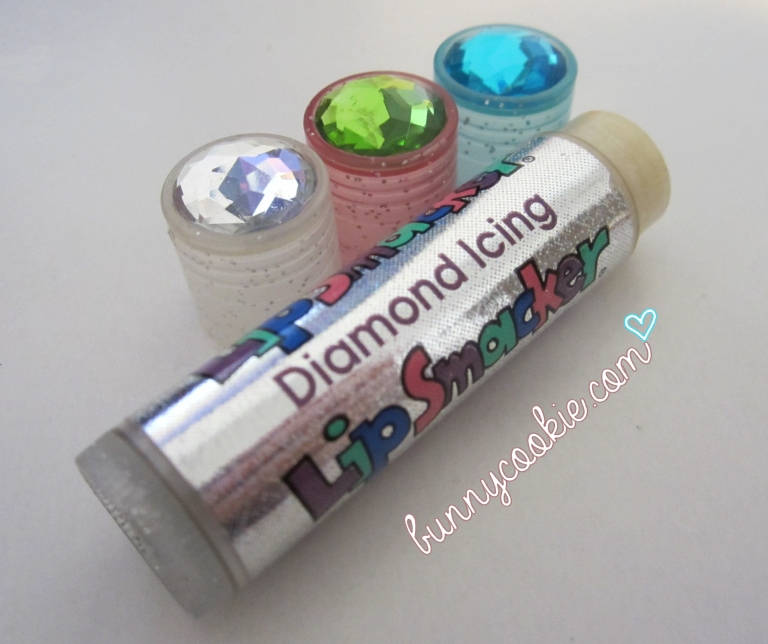 Debuting all the way back in 2000, the Jewel Lips collection is a sparkly classic that, much like the Cosmic collection, is still very sought after today. In total there were twelve different smackers, each adorned with a name and jewel that represented a birthstone.
This Lip Smacker collection is a good example of how important a cute theme is when it's time to look back and reminisce–though I can't speak for the formulas on all twelve (since mine are all still in the package) the seven I have extras of have either completely lost their smell or, at most, retain a hint of frosting.
And since the frosty glitter-infused balm can easily be found in its full-scented glory today (such as in the Disney Princess line), I'll have to assume it's less the lip balm itself and more the shimmery labels and gem-encrusted caps that keeps fans asking for a re-launch. Myself included!
There are a few flavor standouts though, such as Butterscotch Topaz, Emerald Butter Mint, Turquoise Sprinkle Cake, and until this year, Amethyst Sour Grape. However I don't have opened versions of these–if you do, please comment and let us know how they have held up over the years! 🙂
On the back of each package it has the following info:
"Lip Smacker Jewel Lips come in so many precious flavors for you to collect and treasure."
Garnet=loyalty; January's birthstone.
Amethyst=sincerity; February's birthstone
Aquamarine=courage; March's birthstone
Diamond=innocence; April's birthstone
Emerald=love; May's birthstone
Pearl=health; June's birthstone
Ruby=pleasure; July's birthstone
Pearidot=happiness; August's birthstone
Sapphire=truth; September's birthstone
Opal=hope; October's birthstone
Topaz=faithfulness; November's birthstone
Turquoise=success; December's birthstone
Do you guys miss the birthstone Lip Smackers too? What were your favorites?